It seems to us that you have been thinking about a chance to sell templates for a while. You have already produced a bunch of ready-made solutions that the audience will adore. Time is running out, and you are still standing on the starting point. What is stopping you from selling your first digital products?
You might mention dozens of reasons that do not allow entering the Internet as a creator. Without a doubt, many people have an interest in launching their online-stores to showcase the assortment. On one hand, it is the right choice. On the other hand, setting your original site up might be time-consuming and eat up your energy. In addition to this, it is possible to get scared by the thought that no one will notice your assets. As a result, you are going to waste money and inspiration. For this reason, it would be excellent to think about other ways to sell templates.
Our choice is to turn to different marketplaces. In our opinion, it will reduce all the mentioned risks. One of the most highly-popular marketplaces is TemplateMonster. It is a resource where making passive income turns out to be easier and quicker. This platform will not make you face multiple challenges connected with the promotion, money loss, and others. We know that providing a few details about your potential marketplace is not enough. For this reason, we have decided to gather all the essential details about TemplateMonster. Do you want to know what commission rate is waiting for you? What will be your reliable ways to boost earnings? Will someone help if you cannot understand how after-payment works? All of the answers to these questions and many others are waiting for you below.
How Did TemplateMonster Begin to Sell Templates?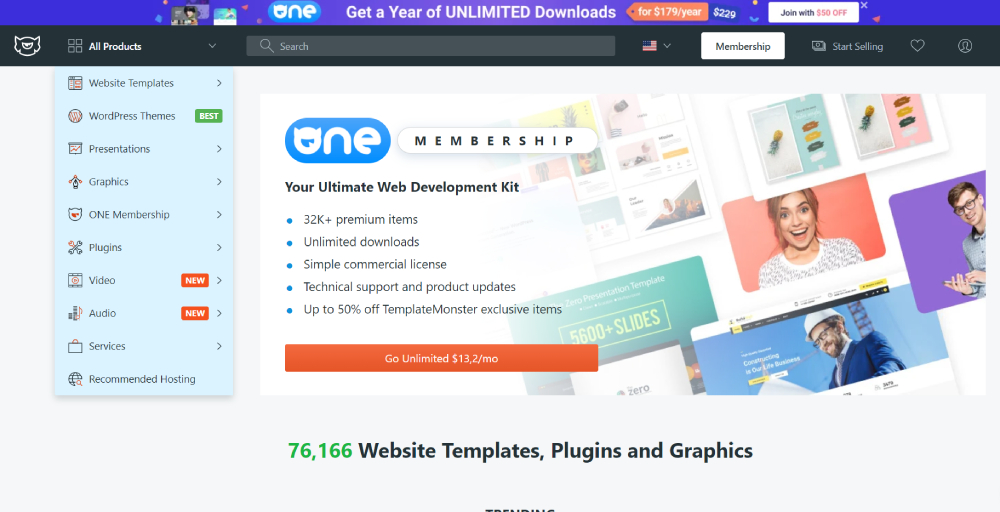 You cannot deny the appeal of digital products. For the biggest number of sellers, it is a perfect match. They do not need to think about a warehouse, shipping, or returns. They can manage all the orders online without the need to replenish their inventory. As you can understand, it is no surprise that many people decide to create a business connected with digital items. A long time ago when people were not familiar with ready-made templates, TemplateMonster entered the Internet. Perhaps, its key to success was uniqueness and innovation. Now, we cannot say what allowed this resource to stand out from the competition. However, we can go through the way that led it to this point together.
TemplateMonster was born in 2002.
In 2003, TemplateMonster managed to distinguish itself from other providers of HTML templates. As a result, it turned out to be a leader and attracted a massive number of users to the site. It also got an affiliate program. Nowadays, it is still working to pay out a decent commission for promoting the resource on blogs and social media.
The first eCommerce templates found their place on TemplateMonster in 2004.
More than 10,000 website templates were showcased on the site in 2005. It is also impossible to keep silent about a MonsterPost Blog that the team introduced the same year. You can visit the blog and learn more info about web design, WordPress, and other related spheres.
When it comes to WordPress, we cannot forget to mention the era of this CMS on TemplateMonster. It started in 2006.
After two years, the number of ready-made solutions grew up to the number 20,000.
What did happen in two years? TemplateMonster added more web-design assets and provided the audience with 30,000 items.
When popularity starts to grow regularly, it is crucial to take the brand-new demands of customers into consideration. The audience became international, and people wanted the platform to have several translations. The team launched a few localized versions that allowed people from Germany, Russia, and Spain to be more comfortable with the site.
TemplateMonster became the marketplace in 2017. After this, lots of independent authors started to upload their work to the resource.
We need to mention the year 2018 when TM Studio started its assistance. What type of assistance does it provide? All non-techies can turn to this service if they need to build an online-project without applying any effort. As an example, it helps to install the chosen template, optimize the site, and do many other things.
ONE by TemplateMonster started to gladden web-developers and people who worked in some related spheres in 2019. You have the freedom to choose from three plans with unlimited downloads and installations. There is also a free plan for those who want to understand how everything works. It includes graphics, presentation templates, HTML templates, and other assets.
Independent authors uploaded more than 20,000 products to the marketplace in 2020.
Sell Templates on TemplateMonster
Many people are looking for a quick-fix and ready-made solutions to save time and money. For this reason, the decision to sell templates can bring you substantial revenue. What do you need to consider TemplateMonster as a potential platform for this purpose? Below, we have gathered all the pieces of information for future authors.
Sell Website Templates on This Marketplace and Get the Following Benefits
We want to start with the numbers. A network of customers has more than two million users. Each of them has a chance to choose from 90,000 digital items. More than 1,500 authors submitted and continue to submit an incredible part of these web-design assets.
What should you know about the process of submitting? First of all, every author can upload an unrestricted number of web-design assets. Moreover, you need to know what product categories are acceptable. These include WordPress themes, CMS and eCommerce templates, graphics, stock media, and others. These are only the most widely-downloadable items. It is always possible to go through the site and get familiar with more categories. If you do not find the desired category, get in touch with the team, and send a request to enlarge the assortment.
TemplateMonster tries to respond to the biggest part of the author's demands. As an example, it has already improved a payout system to make it more transparent. It also updates the existing requirements to make them more comfortable for the community. There is also a chance for authors to invite their friends to join the marketplace as a creator. In other words, it is a bonus program. Send your friend a special link to register and get a commission after he or she starts to sell. By the way, we need to speak about a review process. The team checks your products very quickly. If it does not accept the product, you will know what is wrong. After this, you have the freedom to edit your ready-made solution and upload it again.
The marketplace also gives you a chance to grow your earnings. Just start adding your products to the ONE Subscription to broaden the horizons.
To ask for assistance, you can choose from different channels. These include a personal manager, a Facebook community, and various easy-to-use guidelines.
Commissions on TemplateMonster
If you decide to share your products exclusively on TemplateMonster Digital Marketplace, commissions start with 50-65%.
If you decide to share your products on multiple platforms, commissions start with 40%.
Commissions are going to grow if the audience buys many of your ready-made templates. As a result, it can reach 65%.
Sharing graphics means receiving a 65% commission from every sale. It works in terms of both exclusive or non-exclusive products.
Authors who submit Shopify and OpenCart themes can decide what cost to set up. The only requirement is to start it with 29$.
Being both an affiliate and an author gives a chance to earn a 95% cut. When one joins the marketplace as an affiliate, he or she gets a referral link. Include it in the posts and social media when you promote your assortment.
A Few Words in Conclusion
Every task is always ready to provide you with multiple challenges. Even those tasks that might seem attractive or ordinary might make you face a few problems. You cannot decide to sell templates, snap your finger, and become popular. It does not work like this. However, you can consider TemplateMonster a place to share your work. It values all the authors and makes sure each of them feels comfortable. You are going to receive a great commission, professional support, a bonus program, and other advantages. It seems to us that TemplateMonster is certainly worth trying. We hope that your assortment will become famous and impress the target audience. Thanks for reading!